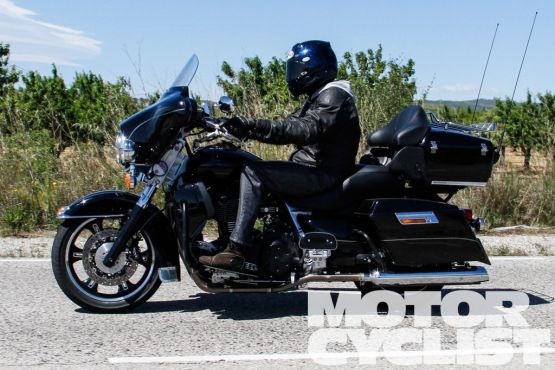 Motorcycling heavyweights Triumph have a number of models in their portfolio which give them a choice of bragging rights. From the iconic Bonneville to the king-of-the-hill Rocket III, they have no shortage of appeal. However, when it comes to more-or-less conventional cruisers, Triumph don't really have too much to talk about, apart from their Thunderbird twin and Speedmaster. That's all set to change, because eagle-eyes snappers have spotted not one but two big cruisers, in heavy disguise, which will make their way into the North American motorcycle market, where almost half of the total sales are cruisers.
The two motorcycles spied were both decked in Harley-Davidson bodywork, one with that of the Electra Glide and the other with that of the Road King, with the only giveaway being the parallel-twin engines powering both bikes. The bikes appear to be based on the Thunderbird and so it is expected that the chassis and engines will also be shared. That's good news because it means that the T-16 parallel-twin motors in both 1,600- and 1,700-cc guises will bring the power. The 1,597cc engine makes 86 PS of power and 146 Nm of torque while the larger 1,699cc engine boasts 98 PS of peak power and a hefty 156 Nm of torque. If the size and output figures are anything to go by, they can be expected to put up a fight with the likes of Harley-Davidson and Victory, both of which use big V-twins for their power business.
Triumph looks set to be on the move globally and although they are yet to officially open shop in India, the wait would be well worth it if these big cruisers join the incoming lineup as well.
Story: Jim Gorde
Images: motorcyclistonline.com