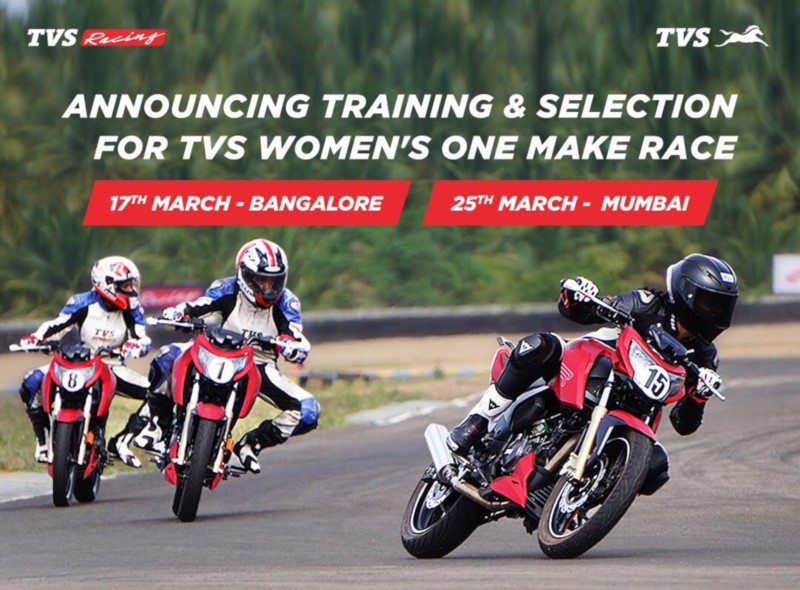 Good news for aspiring racers comes on International Women's Day as TVS Racing have announced training and selection dates for the 2018 One-make Race.
TVS Racing have been on a roll with their activities not just encompassing new motorcycle tech and participation in iconic global competitive events such as the Dakar Rally, but also the honing and nurturing of new and young talent with their racing programmes. In the vein of the latter comes the announcement of the 2018 Women's One-make Race, the selection and training for which will be conducted this month in two cities, Bengaluru on 17 March, and Mumbai on 25 March. Reporting time is 8:00 am.
Entry is free for women with a valid (riding) license. Selection and training will be in the hands of TVS' own racers Harry Sylvester, K Jagan Kumar, K Y Ahmed, S Kannan and Aishwarya Pissay. The top 10 riders who manage to set the fastest times will be selected to race in the 2018 season. Participants must have a DOT and ECE certified full-face helmet with a visor and a double D-ring strap. Full racing suits will be available on a first-come-first-serve basis.
Interested? You can head here to register: http://www.tvsracing.com/tvs-womens-one-make-racing.aspx