'This is the most potent Zero to date, with more torque than the sporty Zero SRS, if a little down on peak power. It also has far more torque than its closest electric rival, the Energica Experia (115 Nm) and kicks sand in the face of any petrol-driven adventure bike. Zero claim a top speed of 180 km/h, which is identical to the Energica's.' We rode this bike in Sicily.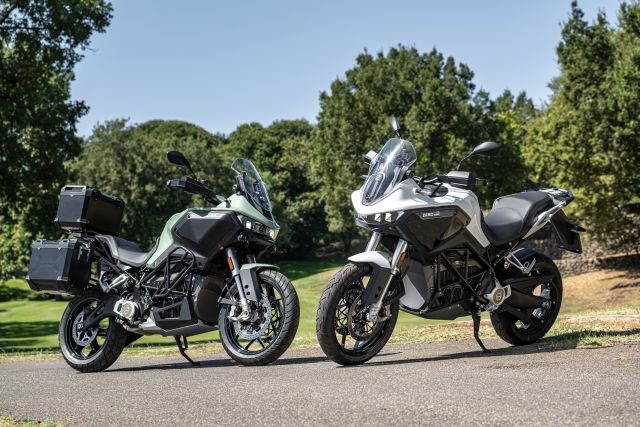 Story: Adam Child 'Chad'
Photography: Milagro
Before I give you the low-down on Zero's all-new electric adventure bike, even before I highlight the joys of riding it up and down Mount Etna in Sicily in near-silence, I need to ask you a few questions.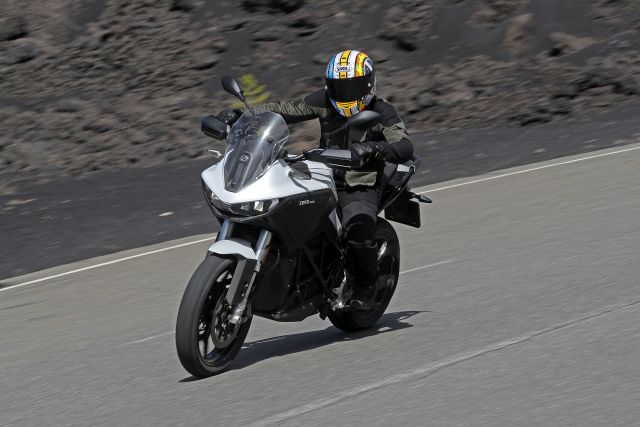 What is an adventure? Is it determined by its duration, distance covered, beers drunk or simply the memories it creates? An adventure for my eight-year-old son is camping in the back garden, less than 10 feet away from a warm house and power for his iPad. For some of my friends, an adventure means nothing less than pitching their tents at base camp on Mount Everest.
So, yes, this is an unusual way to start a road test, but it is worth considering the "adventure" label and the enormously wide spectrum of meanings attached to it. And if adventure riding to you means forays into Europe and even beyond, with vast mileages easily achieved each day, then I will not take up your time. Unless you plan your trip like NASA, it cannot be done on the new Zero DSR/X adventure bike.
However, that is not the end of the story. Far from it. Zero claim a range of 357 kilometres with a Power Tank (optional at £2,899 = Rs 2.67 lakh) when ridden slowly off road or 290 km of city riding (without Power Tank), which could be up to 10 hours of relaxed off-road riding. Ride all day, plug in overnight, ride again the next day, and repeat. For many riders, that could be enough for an adventure.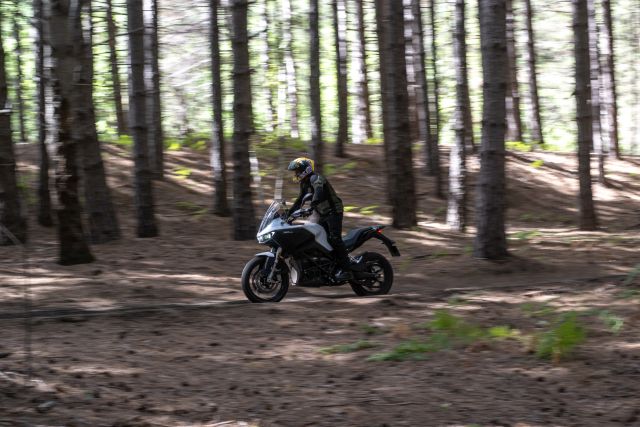 Meanwhile, the claimed highway range in standard form is 137 km, with a combined quoted range of 185 km. During this test, I covered 81 km of spirited riding, both on and off road, with 105 km or 60 per cent battery remaining. In theory, that is 186 km in total, which matches Zero's claimed combined range.
Is that far enough for an adventure? In reality, it means riding for two hours or less, stopping for an hour or more to recharge, and away again for 120 minutes more of riding. So, clearly, the DSR/X comes with a big question-mark about its range and the only definitive answer to whether it goes far enough will boil down to what you want from an adventure bike and what adventure means to you.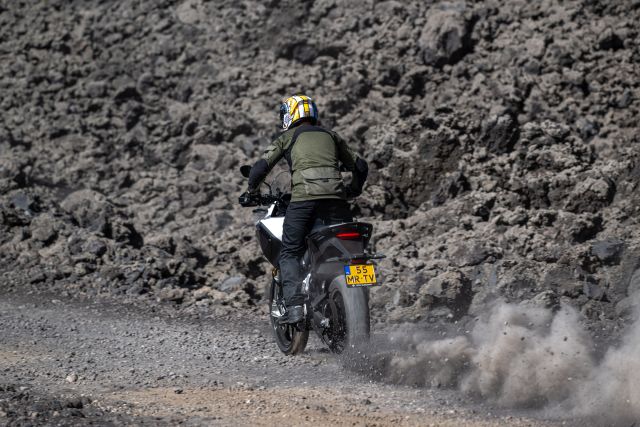 That is even more relevant given that the D it becomes a noticeably pricey adventurer. A full spec'd DSR/X is priced at a lofty £24,150 (Rs 22.22 lakh). Add the aforementioned £2,899 (Rs 2.67 lakh) for the Power Tank or £2,459 (Rs 2.26 lakh) for the Rapid Charge Module, plus a few accessories such as luggage, and BMW R 1250 GS Adventure will set you back by just over £20,000 (Rs 18.40 lakh) and Ducati's expensive but attractive Multistrada V4 S starts at below £20K too; even a full-spec Multi with luggage, radar—everything—comes in at £23,245 (Rs 21.39 lakh).
The only electric competition is the Energica Experia, which is more expensive at £27,790 (Rs 25.56 lakh), so at least the California-built Zero is cheaper than the Italian alternative, which cannot go off road and does not have any off-road modes. And if you have solar panels or can plug in at work, it is effectively free to run. It has belt drive and no liquids to change, while service costs should also be low. Although the initial outlay is expensive, running costs should be significantly less than those for the GS and Multistrada.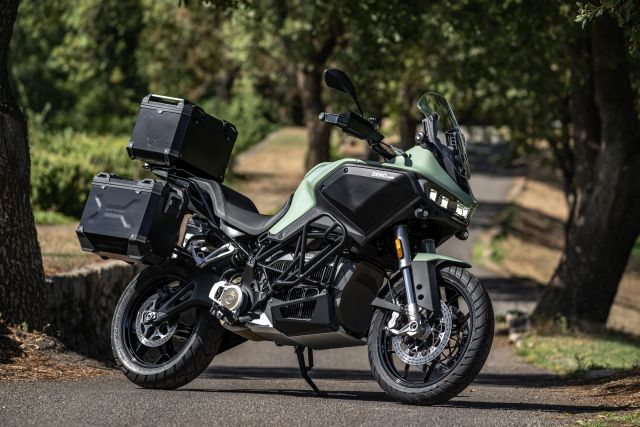 Putting range and price to one side for a moment, as an actual motorcycle, the Zero DSR/X is impressive. I have ridden around Sicily many times: it is the true rustic Italy and one of my favourite places to ride and lives in the shadow of Mount Etna, the largest active volcano in Europe. Knowing the island so well, I thought it was a brave move by Zero, given the roads' technical undulations, steep climbs, testing hairpins, and reasonably challenging off-road opportunities around the base of the Etna. However, the Zero DSR/X took on the challenge with relative ease.
The 17.3-kWh battery pack is the same as found in the other premium models in the Zero range, but the Z-Force 75-10X motor is all-new for this model. This translates into 225 Nm of torque and 102 hp at 3,650 revolutions per minute (rpm) in peak power mode. That is a huge amount of grunt.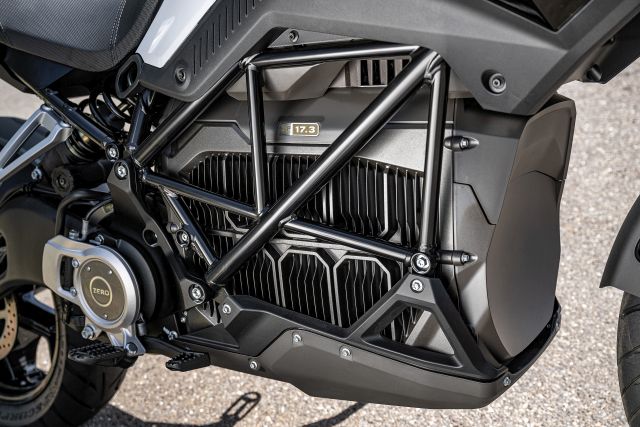 This is the most potent Zero to date, with more torque than the sporty Zero SRS, if a little down on peak power. It also has far more torque than its closest electric rival, the Energica Experia (115 Nm) and kicks sand in the face of any petrol-driven adventure bike. Zero claim a top speed of 180 km/h, which is identical to the Energica's. If you have never ridden an electric bike before, torque is instant, with no lag. Twist the throttle and go. From the traffic lights, the Zero would give any conventional petrol superbike a run for its money and embarrass any adventure machine.
There are multiple riding modes to change the behaviour and feel of the bike: Rain, Eco, Sport, Canyon, and Standard. Only Sport and Canyon are full power. Each map has its own power characteristics. Each clearly displayed mode also changes the level of rider aid intervention and re-gen braking (which is like conventional engine braking but also re-charges the battery).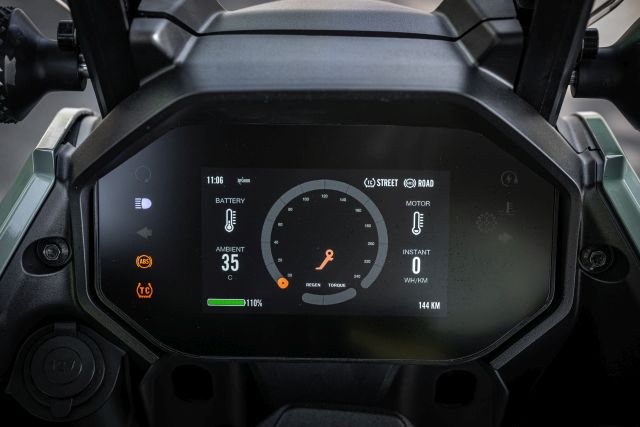 Zero has collaborated with Bosch on the DSR/X's electronics, which means we have lean-sensitive traction control and ABS. Additionally, within each mode, you can revert to a specific off-road mode, meaning there is not just one specific off-road mode. If you wish, within the menu page you can remove TC and ABS.
I started the road test in Eco. Do not be deceived, Eco does not give watered-down performance; it is startlingly quick off the line. As we cut up the endless hairpins and passed through picturesque villages on the side of Mount Etna in Sicily, Eco mode was more than enough. However, if you want to feel the full brutish force of the Zero's massive torque, opt for Sport or Canyon. I have ridden 200 hp-plus superbikes and raced at a decent level, but the acceleration in these full-power modes is exceptionally rapid and will surprise any rider, no matter how racy or experienced. It takes your breath away and accelerates without hesitation or noise. Overtakes are effortless, with no flicking back of gears or checking the rev-counter. Quarter-turn the light throttle and you instantly dart past moving traffic with the acceleration of a serious, big-cube sports bike, not a 247-kilogram adventure bike.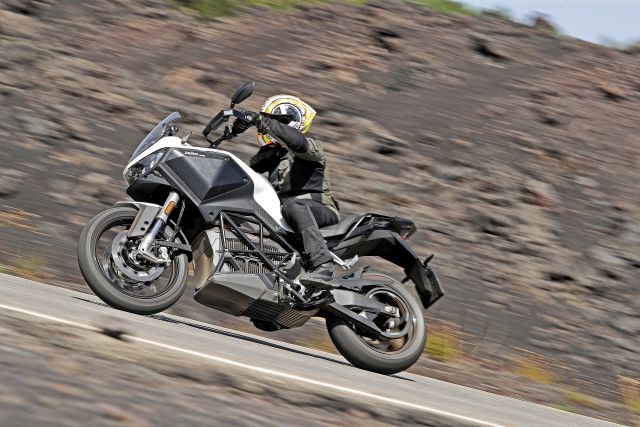 I preferred the Canyon mode, with its lovely surging acceleration, with enough engine re-gen to make it feel like a big V-twin. Despite riding hard, the range increased slightly as I was using more re-gen on the fast run down from Mount Etna. You learn to ride accordingly: do not use the brakes if you can avoid them, let the re-gen slow the bike down and be as smooth and flowing as possible, which extends the battery range. With little traffic and an endless blend of sweepers and hairpins and everything in between, Mount Etna is a biking paradise, especially as the road surfaces was re-laid following the eruption in 2002. The Zero could have been found out in such a pure road environment but it met the challenge beautifully.
You do not have to make compromises just because it is electric. It weighs barely more than a fully fuelled BMW R 1250 GS. Its suspension is fully adjustable and features quality Showa components. The directly mounted shock, with remote pre-load adjustment, has a huge amount to deal with given the bike's torque output, but stands up to the challenge. Equally, the 47-millimetre Showa forks give enough feedback for some spirited riding. Quality Pirelli rubber allows you to carry enough lean angle and corner speed corner to scrape toes and even pegs if you are hauling a heavy payload. And do not forget, you have lean-sensitive cornering anti-lock braking system (ABS) and traction control (TC) as a safety net.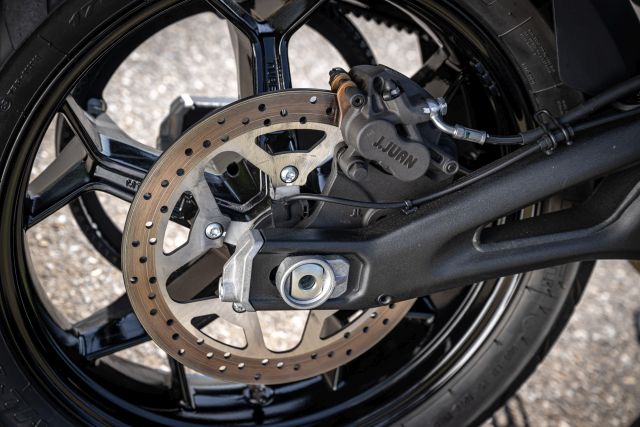 It is easy to enter a corner too quickly and ask too much of the front due to the lack of engine braking, gearbox, and familiar engine noise, but it is only when you are on the limit that feedback becomes a little limited.
Dual J-Juan radial four-piston calipers with a radial-mounted master cylinder and 320-mm discs do most of the work and are up to the job. Stopping a 247-kg machine, plus rider and luggage, is a lot to ask, but the Spanish-made brakes are hard to fault. In fact, the Zero's handling package is comparable to any other conventional petrol adventure bike and was far from outclassed around the stunning roads of Etna.
Comfort is a strange one. On a conventional petrol-powered adventure bike, you would expect to spend all day in the saddle. However, the Zero does not have the range for all-day riding; therefore, you are forced to stop and take a break before comfort becomes an issue. Even so, the Showa suspension is on the soft side, there are no vibrations, no heat—it is a pleasurable riding experience. You feel you could ride the Zero all day long: set the cruise control and go… But you cannot, not really. Instead, you are going to need to think about a charge after 150 km. To charge back up to 95 per cent capacity will take one hour or two hours, depending on if you opted for the optional Rapid Charge Module (£2,459 = Rs 2.26 lakh).
Off road, the Zero performed far better than I expected. But I feel the US manufacturer has missed a trick. Big, premium-price, conventionally powered adventure bikes in the class have semi-active suspension. Press a button and the suspension and ride change from road to off-road, which is like having two or three bikes in one. The Zero has quality Showa units, but only manually adjustable suspension, which means a set-up that works well on road is not going to cut it on the dirt, especially on a 247-kg machine.
Minor off-road excursions, like potholes and speed humps, are fine. Gentle off-road pottering, even on the road rubber, features a lovely low-speed balance, those useful riding modes, and, obviously, no gears or clutch to complicate the ride. But do not try anything too adventurous, as you would on, say, a KTM 1290. Especially do not try hopping over rocks or increasing your speed, because the road-biased suspension cannot cope. All right for an average ride off-road, but do not try anything too serious. This is amplified but the lack of noise; the suspension sounds like it is being beaten into compliance.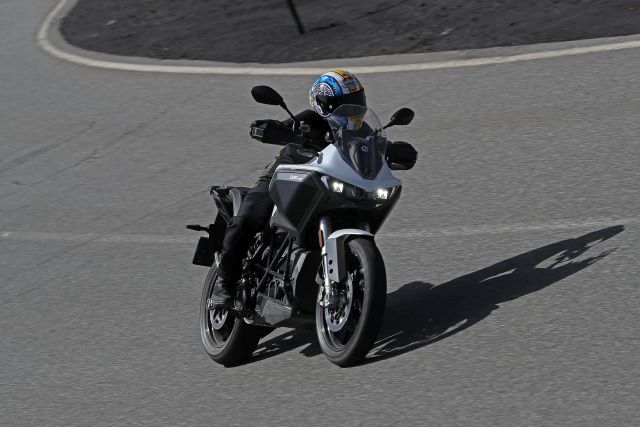 Lean-sensitive ABS and traction control can be deactivated for more experienced hands and there is a useful Park Mode with a slow-speed reverse and crawl function to help the inexperienced. The TC intervention does not cut the ignition as it would in a conventional bike; it simply reduces the power/torque. You can feel this working off road, a little too much in some modes. But when you turn off the TC, it is all too easy to get the rear spinning with so much instant torque available.
For those who really want to attack the dirt, there is alternative more off-road biased rubber, plus an after-market skid-plate and crash protection. Talking of accessories, Zero offers hard luggage, top case, screens, and connectivity to the Zero Motorcycles mobile application. But there is no radar detection to match the standard cruise control, no keyless ignition, and the side storage compartments must open with a tool from under the seat. And the Power Tank and Rapid Charge Module are not standard issue either.
You have to admire Zero's engineering, skill, and dedication to the task. Not only have they produced something attractive, but it has more torque than its petrol equivalent, is easier to ride both on and, gently, off road, and is laden with tech, with sophisticated Bosch rider aids. Road handling is on a par with any petrol adventure bike, plus the DSR/X has all the advantages of electric: namely, it is cheap to run, quiet, produces no real heat, and is low-cost to maintain. There is no denying this is an impressive bike and, as a first attempt at an adventure bike, must be applauded.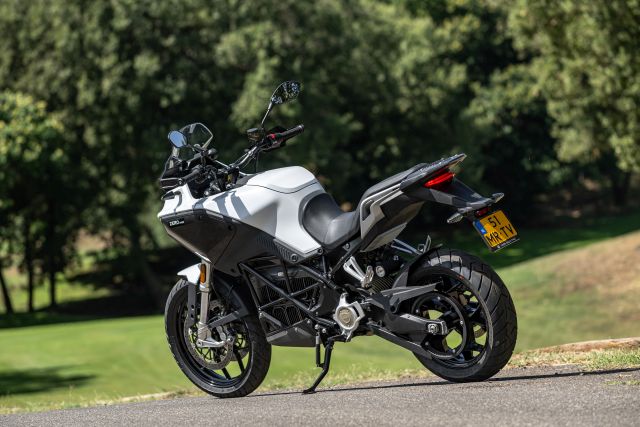 But we are back to the opening question: is the range long enough? How far must you travel for an adventure? If the high price tag does not perturb some customers, then the lack of range might.