As a result, I hardy found myself beyond 3,000 rpm, even when darting through scarce early morning traffic, and I always had enough drive available for immediate overtakes whenever needed. The riding position is upright and commanding, with the foot-pegs placed right below the rider and the wide handlebars livened up by the padded handlebar brace fitted on this bike. Even out on the highway I rarely found myself pushing beyond 4,000 rpm, and was easily out-accelerating everything else on the road. It's only if you find yourself in an impromptu drag race with another fast motorcycle will the need to rev the engine any further arise, in which case the British twin pulls audaciously to its 7,500-rpm redline, dispatching 100 km/h while still in second gear and continuing to beyond 150 km/h without any fuss. Sure, riding this aggressively with the Vance & Hines exhaust adding the perfect soundtrack to my hooliganism was fun, it's not what the Street Scrambler is built for. This bike is ideal for cruising along and enjoying the endless midrange on offer and, considering that 100 km/h comes up at just 2,500 rpm in fifth gear with 140 km/h at 3,500 rpm, there's scarcely the need to rev any harder. The five-speed box never threw up a false neutral, even when ridden hard, although shifts were sometimes too notchy for my taste.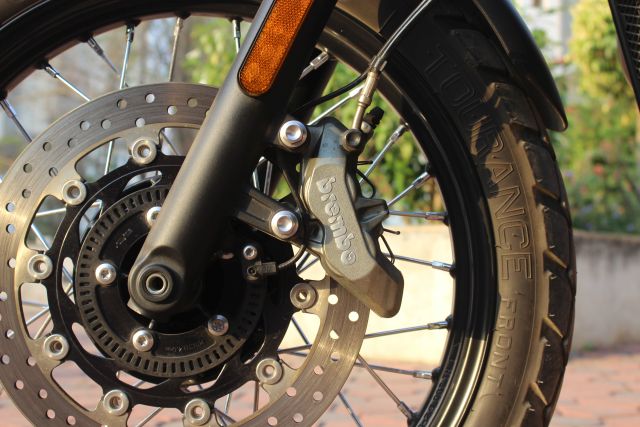 The next big improvement for the 2019 Triumph Street Scrambler is to the brakes. The two-pot Nissin calipers from last year's bike have been replaced with four-pot Brembos, and a two-finger squeeze is enough to haul this 198-kilogram (dry) motorcycle down from speed.
The 41-mm KYB cartridge-type fork retains the 120-mm of travel from the outgoing bike, but with much better damping characteristics. The fork tubes are also further spaced apart now, to make room for the larger four-pot caliper, and this adds to the meaty, rugged look. The revised front end did a fine job soaking up road imperfections and kept the wheel planted over all kinds of surfaces, while providing me with ample feedback from those excellent Metzeler Tourance tyres to push the bike hard in the corners.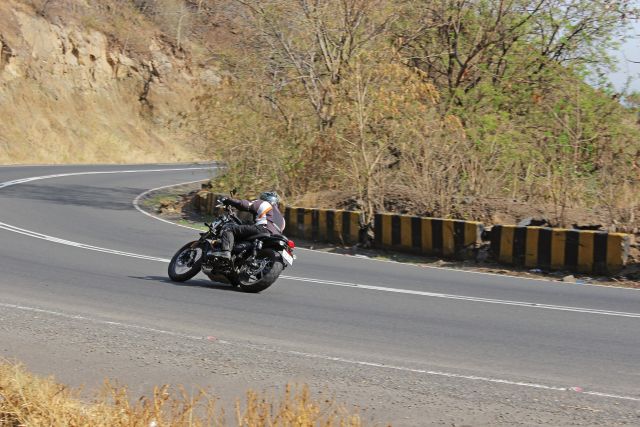 The large front wheel doesn't get in the way of having fun in the hills, and the leverage afforded by that wide handlebar is a great asset when hustling through the tight stuff. The rear gets preload adjustable KYB shocks, but this bike was fitted with a pair of Fox shocks from the custom accessories catalogue that feature adjustable compression damping, allowing you to fine tune how much of the road you want to feel through your backside.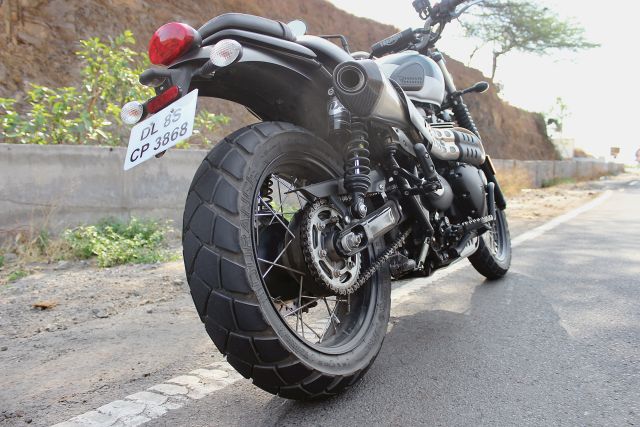 Let's be clear that the Triumph Street Scrambler is not an off-road bike. The design may be inspired by the go-anywhere bikes of the last century, but with just 120-mm of wheel travel at both ends, and weighing well over 200 kg wet, this bike's off-road capabilities are purely rudimentary.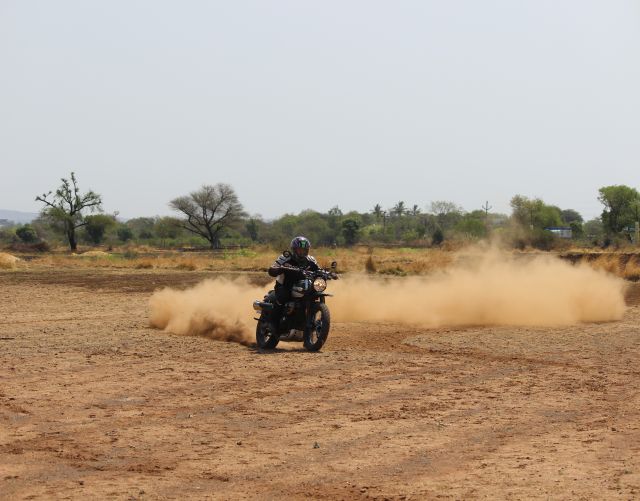 That however, didn't stop me from hitting a rutted path and ending up in an open field, where I had an absolute blast sliding around and even catching some air off a few small jumps. I was quite impressed with how the bike held its composure even through the rough stuff, its manageable 790-mm seat height allowing me to get away with mischief that I wouldn't dare trying on an taller motorcycle.
With these, and many smaller updates to the 2019 Street Scrambler, we were expecting a sizeable bump in cost as well, but Triumph surprised us with a Rs 8.55 lakh (ex-showroom) price-tag; just Rs 45,000 more than the outgoing bike. All the pictured accessories however, will push the cost up to well over Rs 9 lakh, but you can pick and choose the bits that you really need for your usage. Ultimately, the new Street Scrambler is definitely an engaging and fun motorcycle that will appeal to beginners and experienced riders alike, and brings with it the timeless charm and appeal of the classic British twins.