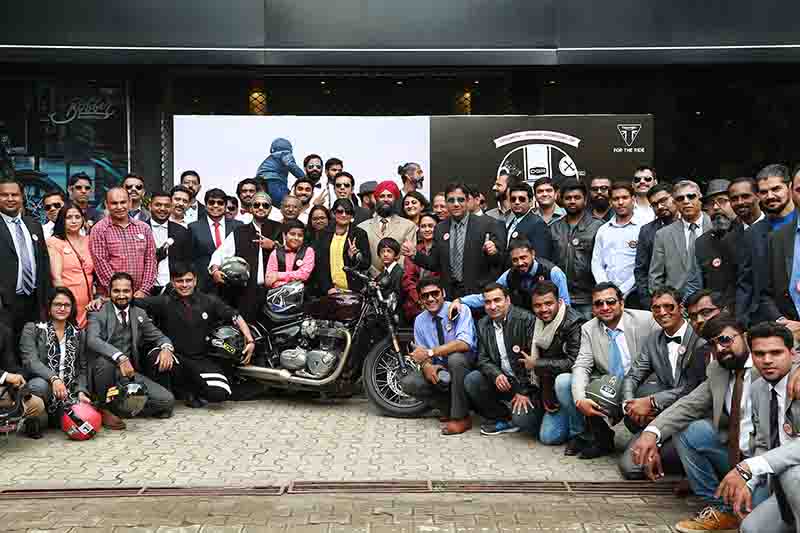 The annual charity ride was a big success in India
Triumph Motorcycles have been associated with the Distinguished Gentleman's Ride since its inception in 2012 and recently, Triumph Motorcycles India organised this much-talked-about ride for the fourth time in the country. The ride's motive was to raise awareness and funds for prostate cancer and suicide prevention. This year the initiative has been successful in raising over US $ 4 million (Rs 27 crore) globally. You can still donate by visiting www.gentlemansride.com.
This ride is different from any other ride as the participants dress in their finest formal attire and ride Triumph's range of modern classic and vintage motorcycles to raise awareness and funds. This year's ride took place on 24 September in over 600 cities across 95 countries where the number of riders participating was over 70,000, including over 2,000 men and women from India.
The ride in Pune saw Triumph Motorcycles India Managing Director, Vimal Sumbly, ride along with Bollywood actor Amit Sadh and other riders from the city. To celebrate the fifth year of the ride, Triumph Motorcycles have built a special one-off Bonneville T100 called the 'The Dapper Bonnie DGR100'. This special motorcycle will be awarded to the top ten 'Team Triumph' fund raisers from around the world.
On the occasion of the ride, Paul Stroud, Chief Commercial Officer for Triumph Motorcycles, said; "Were delighted to be able to support and participate in such an extraordinary and wonderful event, for such a powerful cause for good. We see this as one of the most important partnerships we have, which is why this year we have agreed a new four-year contract in order to help the DGR team take the event and its positive impact on men's health to an even bigger level."
Triumph Motorcycles India Managing Director, Vimal Sumbly, commented, "We, the members and dealers of Triumph Motorcycles India family, are very happy to have collaborated with the DGR for the fourth consecutive year in India. The Distinguished Gentleman's Ride is a brilliant initiative which has not just successfully raised awareness and funds for prostate cancer but has also strengthened the bond amongst fellow motorcyclists from the Triumph tribe and beyond. The entire process of following a dress code and riding in harmony with fellow bikers is quite an enthralling experience to bring attention to men's health issues."
Triumph enthusiast and Bollywood actor, Amit Sadh, said, "I was overwhelmed and delighted to be a part of the awareness ride as a DGR ambassador. The Distinguished Gentleman's Ride is a unique international motorcycling event, organized simultaneously in several countries. The event introduces the participants to the reasons and cures of prostate cancer by making the public interact with experts. The unique theme of formal dressing of riders draws attention of the public, which helps to spread awareness on this disease by direct interaction with them."