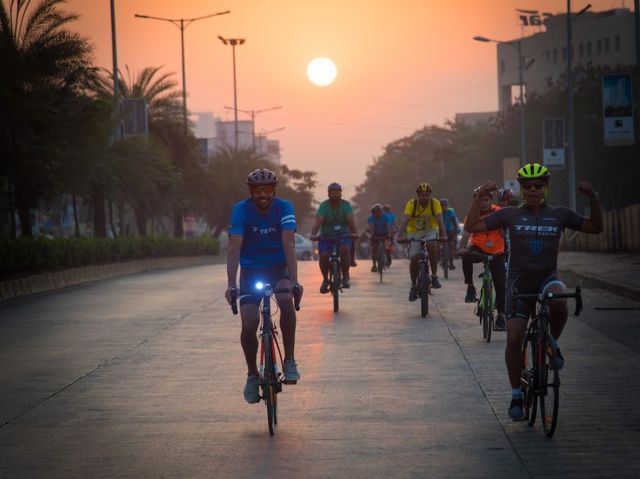 Cycling enthusiasts have another option to choose from while browsing for a new pedal-powered machine – this time from a rather well-known brand, Trek Bicycle Corporation. The American manufacturer made an impressive entrance into the Pune market by organizing a ride. That's a neat way to garner publicity and engage potential clientele at the same time.
Over 140 cycling enthusiasts sprung out of bed early on a Sunday morning to pedal their way around Pune city for approximately 30 km. In case you are wondering, that is how these people usually start their day. In addition to the launch of an iconic brand, the riders also got a chance to interact, learn, and maybe create WhatsApp groups with fellow enthusiasts.
Trek's Pune chapter was made possible thanks to their partnership with D Byk Store and they will feature models across their road, mountain, and hybrid series. Their range starts at Rs 26,500 and goes up to Rs 20 lakh. That sounds a bit steep, eh? Well, considering the fact that it caters to the fitness regime of some world-class motorcycle racers, maybe it is justified. Perhaps, that's why they have brought Bajaj FinServ on board to offer zero down payment and no-cost EMI finance schemes. Also on offer are accessories and riding gear from Bontrager.
Commenting on the brand and the cycling culture in Pune and India, Navneet Banka, Country Manager, Trek Bicycle India said, 'We are excited to bring the most technologically advanced bicycles in the world to Pune – once known as the "Bicycle City" of India. Trek is a heritage brand with over 40 years of commitment to relentless innovation that stems from the founding principle to build bicycles people love. Pune is a key market for Trek and our cycles shall be retailed here by our partner Akshay Mehta of 'D Byk Store'. Our aim is to offer an all-inclusive brand experience while promoting the culture of cycling in the city.'
Story: Joshua Varghese