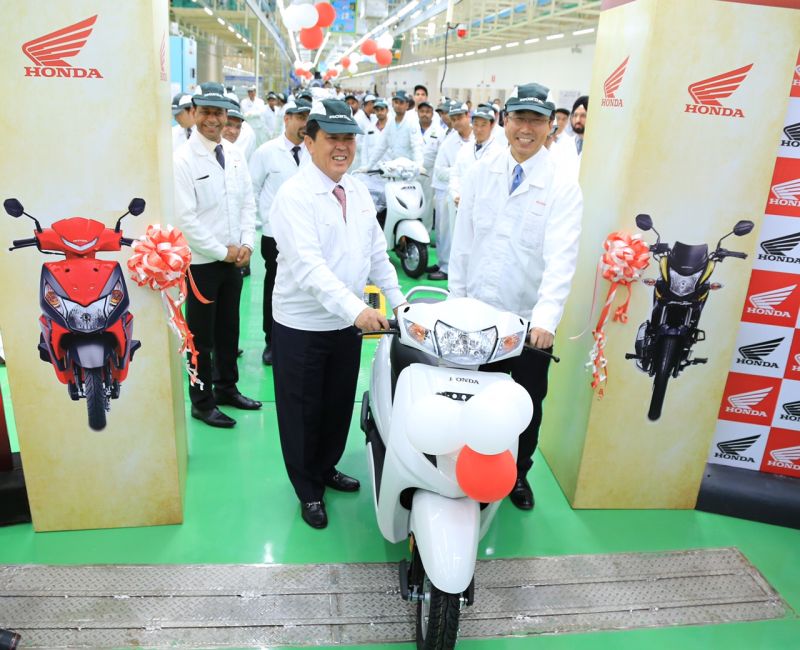 With the fourth assembly line now operational, the Narsapura plant in Karnataka is Honda's largest production base worldwide. The plant is now capable of producing 2.4 million units annually.
The Narsapura plant is Honda 2Wheelers India's third plant in the country and the new assembly line has a production capacity of 600,000 units annually. This will take Honda 2Wheelers India's annual production to 6.4 million units for the 2017-18 fiscal year.
Honda and its allied suppliers have collectively invested Rs 5,400 crore in the Narsapura plant and ancillary plants within Karnataka. The investment has resulted in about 22,000 job opportunities through direct and indirect employment.
Honda have also taken a commendable step towards reducing their carbon foot-print. This plant is equipped with a fully-functional rainwater harvesting system and takes care of up to 80 per cent of its power requirement through the use of solar power systems.
On the list of new equipment, the plant will utilise a paint booth with an automatic air balancing system – a world's first for Honda. They also claim to have added 14 robotic processes which were done manually in the past for various areas including paint shop, welding, and material handling.
Elaborating on Honda's growth trajectory in India and the trend of increasing demand for automatic scooters in the Indian market, Minoru Kato, President and CEO, Honda Motorcycle and Scooter India Pvt Ltd said, "Growing double the speed of industry at 19 per cent, Honda alone contributed 68 per cent to industry's new volumes resulting in three per cent market share gain to ever-highest of 30 per cent. While expanding leadership in scooter segment (59 per cent market share), Honda is now also the new number two motorcycle brand of India. The latest expansion further fortifies Honda's ability to serve the market faster with its increased annual production capacity to 6.4 million units from all plants. In the long term, Honda 2Wheelers India's steady and strategic investments will power our dreams to make India the Export hub worldwide."
Story: Joshua Varghese