We got a chance to ride the all-new Ola S1 Air, a more accessible electric scooter for the mass market from Ola Electric. Here is what we think of it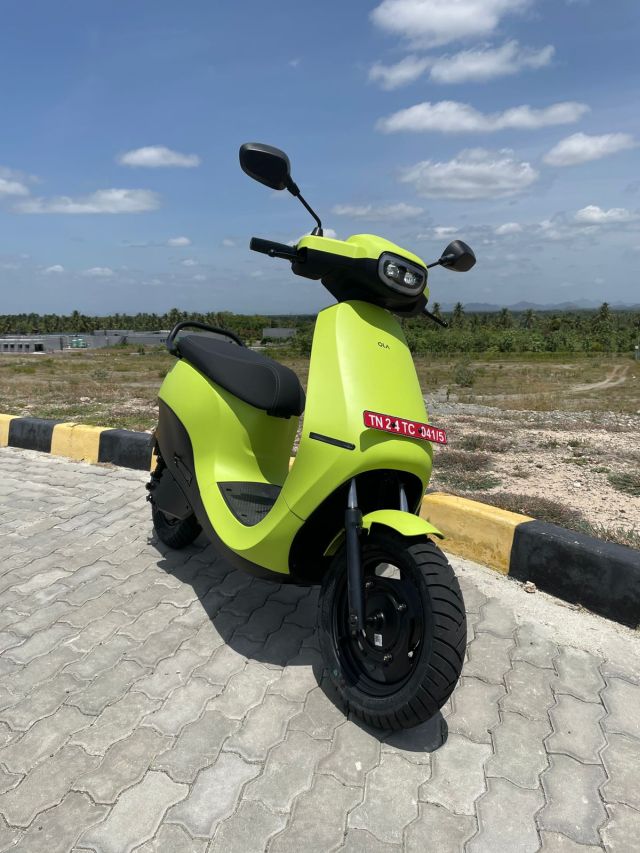 Story: Alshin Thomas
Photography: Ola Electric
In recent years, the world has witnessed a significant shift towards sustainable and eco-friendly transport options. As concerns about climate change and air pollution continue to grow—not to mention the skyrocketing fuel prices—the demand for electric vehicles has gone up. Of course, the shift takes place with considerable scepticism on the part of the hesitant buyers. What was once a concern, electric vehicles breaking down, has now become more of a question with raised eyebrows: 'Haven't these manufacturers learnt anything by now?'
It seems Ola Electric has, for its new S1 Air comes with the "regular" twin-tube telescopic fork at the front and not the singular tube fork. Now it also gets twin shock-absorbers at the rear. What it had called old-fashioned suspension mechanism once is now an integral update in its second-generation offering of the S1. The firm has paid attention to the feedback from its customers whose scooters had the front suspension collapse out of nowhere. Another issue that was faced by many in the case of the previous model was how quickly the battery cells died when the scooter was not in use.
As part of its Gen-2 line-up, the S1 Air comes with all the mistakes of the past rectified and a few upgrades as well.
At first glance, the S1 Air will remind one of the probe droid Eve from Wall-E, mixed with a retro scooter styling. It is almost an aesthetically pleasing and futuristic design, the bodywork being very sleek. The neon green dual-tone colour scheme is quite alluring. This time, the design of the scooter is also a little more practical with more space for storage in the pockets that are placed a little above and opposite where your knees will be while riding the scooter. There is also a useful 34-litre under-seat storage that will let you fit two half-face helmets. Unlike the previous S1, the floorboard of the S1 Air is now flat and has no hump in the middle, something that felt quite annoying on its predecessor. It is now more convenient to place things you want and move your feet about on the floorboard. The grab-rail design is new and should make the pillion rider more comfortable.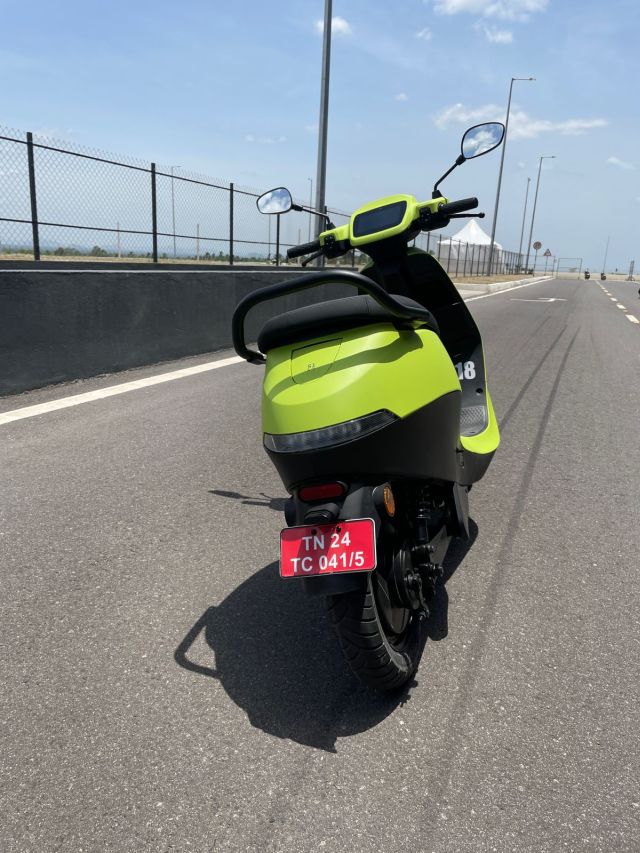 The control hub of the S1 Air is a seven-inch touchscreen display with three GB of RAM that provides essential information such as battery level, speed, and range. This instrument console is where all the magic works, including opening the seat, playing music on the 10-W speaker, turn-by-turn navigation, and more. Other features include a digital key system, a party mode (where the lights on the scooter go all disco), proximity unlock, key-sharing, and more.
Based on the Gen-2 platform, the S1 Air has a frame that is now stronger and an updated 2.98-kW battery pack that delivers power to a hub motor, producing a sustained power output of 2,700 Watts (3.6 hp) and a peak power output of 4,500 Watts (six hp). It takes five hours to charge it fully and around four to achieve 80 per cent.
There are three riding modes: Eco, Normal, and Sport. Sadly, the Hyper mode is not available on the S1 Air. Ola claims that the S1 Air does 0 to 60 km/h in 5.7 seconds and goes on to attain a top speed of 90 km/h while in Sport mode, returning a range of 87 kilometres. The Normal mode has a range of 100 km while Eco gives you 125 km (ARAI certified). A new feature that comes with the S1 Air is the option to choose between levels of regenerative braking.
Coming to how it feels to ride, the scooters we were given to ride were pre-production units that had their own niggles. There was a certain noise coming from inside the front panel as well as some shuddering on the handle and there was also a delay in throttle response at times. What felt more like a let-down was how there was no power while making a U-turn. If you brake to slow down before making a turn, the power gets cut and then there is a lag before it kicks in again, which might take you by surprise if you are already committed into the turn.
However, this 108-kilogram scooter feels pleasant to ride and easy to manoeuvre with its 12-inch steel wheels shod with TVS Eurogrip Remora tyres. Braking is handled by drum brakes at both ends using a combined braking system (CBS).
Priced at an introductory Rs 1.10 lakh (ex-showroom), the Ola S1 Air is an overall improvement on the previous range of models by Ola Electric. The highlight here is how the firm has been trying to make its products more accessible to the mass market with its commitment to accelerating EV adoption. Hopefully, it will do so while fixing the issues in its vehicles and after-sales service.
Also read: Triumph Speed 400 First Ride Review