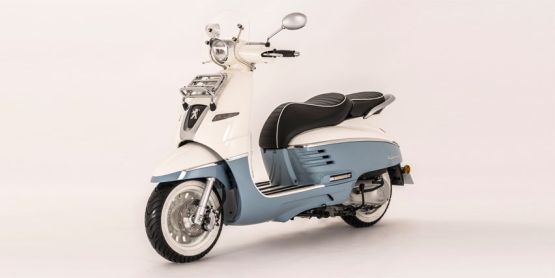 Peugeot's scooter division showed off its latest offering for 2014 at the recently concluded EICMA show. Titled the Django, this scooter will evoke a sense of nostalgia with its neoclassic design, and is a hat-tip from Peugeot's design team to the French manufacturer's flagship S55 and S57 of the 1950s era.
Peugeot will release the scooter with 3 engine options, a 2-stroke 50cc and a 4-stroke 125 and 150cc engines. While the Django may look, aesthetics-wise, like something you were most likely to find on the roads outside a live Elvis concert, under the old-timer visage you'll find a backbone of cutting edge engineering.
The lights across the bike are all LEDs, safety is covered with the Synchro Braking Control technology, and sitting alongside the analogue speedometer in the old-school dash you'll find a LCD display screen serving up the bike's vitals, and the Django even sports a 12V power socket in its glove box.
Peugeot will also allow for prospective owners to add their own personal design touch to their bikes with the unique Django ID configuration programme. Through Django ID, buyers can mix and match in terms of the bike's appearance, and can chose from a prospective 118,000 different outcomes. This apart from the preexsting option of 4 design "universes" already available.
Story: Harket Suchde