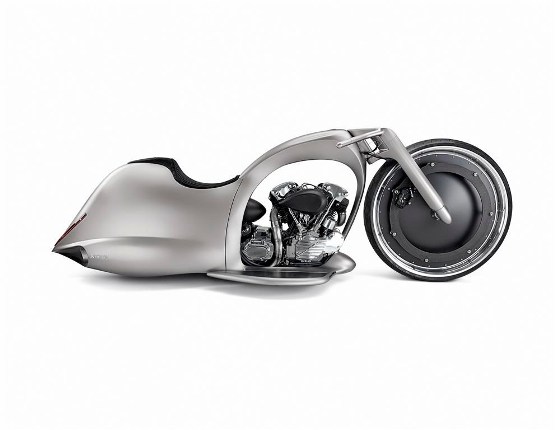 Exhaust system wizards Akrapovic have unveiled what could easily be Captain Kirk's new ride – the Full Moon Concept. The bike retains a cruiser style riding position along with its sleek and futuristic design. The company has built the bike from scratch with help from another Slovenian brand, Dreamachine Motorcycles, who have also worked on the Akrapovic Morsus earlier in 2011.
The exhaust is set in to the aerodynamic bodywork and the front is mounted on a 30-inch carbon fibre and aluminium wheel which is built to resemble a Full Moon. Powering this concept is a 1542 cc V-twin from S&S. Other features also include ceramic brakes and automatic steering, along with a hydraulic suspension system which settles the bike when stationary, thus completely eliminating the need for a stand!
The Full Moon concept grabbed eyeballs at its début appearance at the Bad Salzuflen Custombike Show in Germany. This ready-to-space-travel bike is a one-off build and will not make it onto the production conveyor belt. However, the prototype sure does make an impressive statement.
Story: Aniruddha Mulgund
Images: Akrapovič