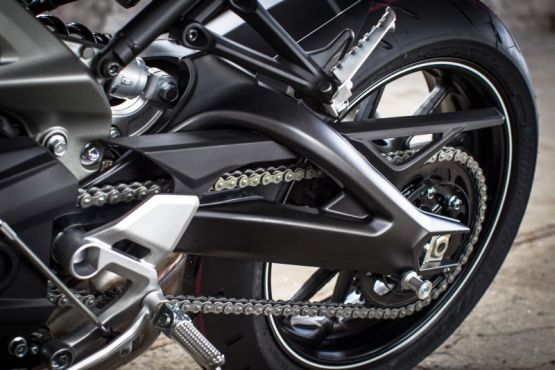 It's not a major problem, but makes for a slightly jerky ride in town and doesn't aid control when getting on the gas out of turns. Selecting the 'B' mode gives a notably smoother take-up (some riders left it in 'B' almost all the time), at the expense of some of that storming acceleration. Ride-by-wire systems seem prone to such troubles, but Yamaha might have been better off following Triumph rather than MV Agusta and aiming to provide just one mode that worked perfectly. Perhaps, it's wrong to be too harsh, though, because their inclusion of a mode designed for maximum straight-line performance shows the right spirit.
The chassis follows the engine by being essentially sound, but not perfectly sorted. The basics are in place, notably that beefy yet light aluminium frame and swing-arm, plus sporty geometry that help give the Yam a responsive, urgent feel that perfectly suits this kind of bike and which heavier, slower-steering machines such as Suzuki's GSR750 and Kawasaki's Z800 can't hope to match. The MT steers with a slight nudge of those wide 'bars, yet stayed stable at speed in a straight line and through fast curves alike. But in slower turns it sometimes had a slightly nervous feel, best illustrated during the photo session when I approached a tight, uphill left-hander for the first time, tipped the bike confidently into the turn… and suddenly had to correct my line as the front end twitched for no apparent reason.
For a moment I suspected the tyre, as some of the roads were distinctly dusty and slippery, but it wasn't a slide and the Bridgestone S20s generally did a good job. A more likely reason is just that the MT's forks have a lot of travel — 137 mm, compared to 110 mm for the Street Triple — and the damping wasn't up to keeping it perfectly under control. Backing off the pre-load and adding rebound damping seemed to help, but the rebound was already just one turn from its maximum setting.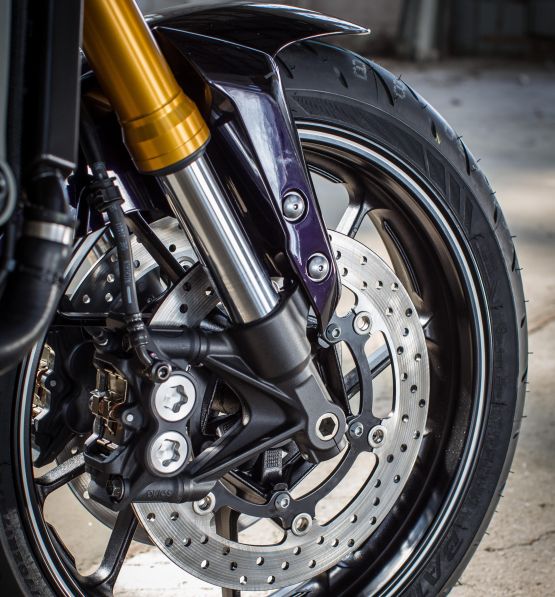 More on page 5 >