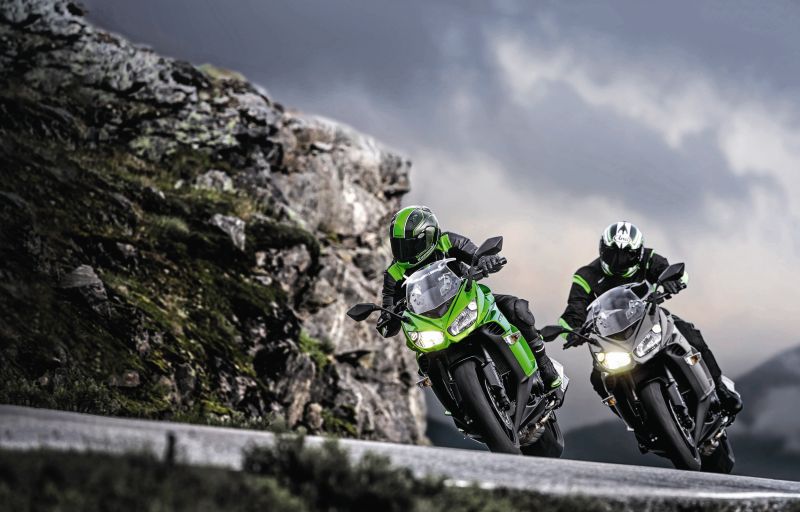 The SX also gets a three-way adjustable KTRC traction control system, similar to the ZZR1400's, with two main modes plus a more intrusive C mode for slippery conditions. There's also a low power engine mode, controllable via the same button on the left clip-on, which cuts power by 30 per cent.
On a glorious day in Austria there was no need for that, but plenty of dry, mostly smooth tarmac on which to let the SX show what it could do. I'm not sure that it felt stronger than the old model, but it was certainly quick and responsive. There's enough top-end power to give down-trading super-sports junkies their fix, with an addictively rev-happy feel made all the better by that throatier intake howl.
On a less interesting route I might sometimes have appreciated a bit more mid-range grunt for top-gear overtaking, but, in general, the Zed's rev-happy delivery was just fine, enhanced by sweet fuelling and a superbly smooth-shifting gearbox. The partially rubber-mounted motor gets a bit buzzy at about 7,000 RPM, but mostly the SX is smooth, even with the tacho needle near the 11,000-RPM redline. Its traction control wasn't noticeable even in quick road riding, but Kawasaki's sophisticated system has proved itself on track and is well worth having.
The aluminium beam-framed chassis has also been tweaked to good effect. Suspension is firmed up slightly: the front just with revised damping settings, but the rear also having a stiffer spring as well as a remote pre-load adjuster that can be used on the move. The SX is no lightweight at 230 kg with fuel, but it handled very well on roads ranging from sweeping curves to hairpins.
Kawasaki's mechanics had firmed the bike up very slightly from standard settings. It gave a taut yet reasonably compliant ride most of the time, but felt slightly soft when riding harder, especially under braking. A couple of extra clicks of fork damping and shock pre-load firmed it up nicely, at the expense of a slightly less plush ride later on.The SX stormed to 200 km/h with no hint of the slight high-speed instability, possibly related to panniers, that some testers mentioned about the old model.
That front brake is superb, with phenomenal power summonable with just one finger and an excellent ABS system (an extra in some markets, standard fitment in others). Backed up by decent ground clearance and respectably sticky Bridgestone S20 rubber, the Kawasaki was seriously quick and excellent fun — good enough that I didn't wish I was riding a ZX-6R instead.