It also found plenty of grip, even when the road surface turned distinctly rough and gravelly at one point, and also when spits of rain made a smoother surfaced stretch look distinctly slippery. The KTM just rumbled round, feeling very sure-footed, it Metzelers gripping reliably and with its traction control system ready to help out if necessary.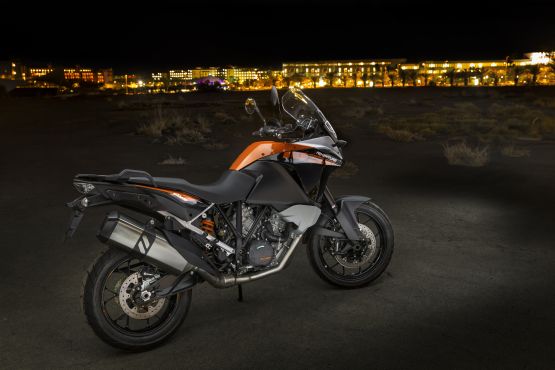 The 1050 doesn't have the 1190's lean angle sensor, so the traction control is less sophisticated (I wasn't going to take liberties with the throttle, as you can with the 1190), but the system adjusts automatically with engine mode and is still worth having. As with the 1190, riding mode and other options are controlled by the left handlebar's panel of buttons, which are logical to operate but require a fair amount of fiddling that can be slightly distracting when riding.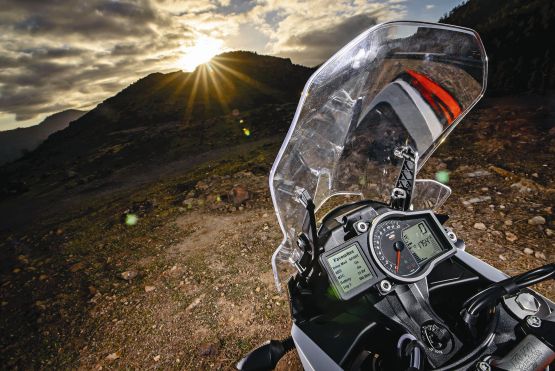 Borrowing its braking hardware from the 1190 ensured that the 1050 had plenty of stopping power too. Its front stopper is an unchanged blend of 320-mm front discs and Brembo four-piston radial callipers, with a 267-mm disc and twin-pot calliper at the rear. Here, too, the 1050 can't match its sibling's electronic sophistication, because its ABS is a conventional Bosch set-up rather than the 1190's cornering system.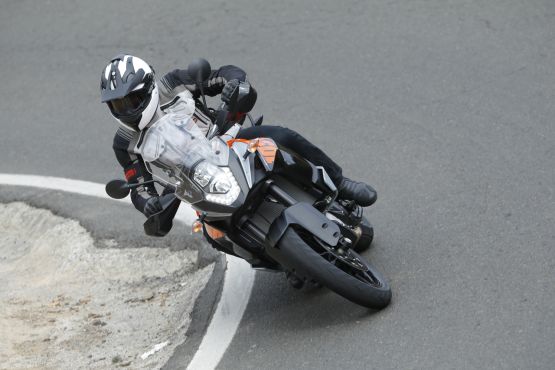 We didn't ride far enough to comment much on comfort, and the launch route also gave no chance to test the Adventure's off-road ability. But early signs are encouraging. The thinner seat seemed comfortable enough, and can be replaced by the 1190's adjustable-height version as an accessory. The tank's unchanged 23-litre capacity would make it good for a realistic 280 km at the hectic launch pace's 7.5 litres/100 km, and 320 km-plus with more gentle use.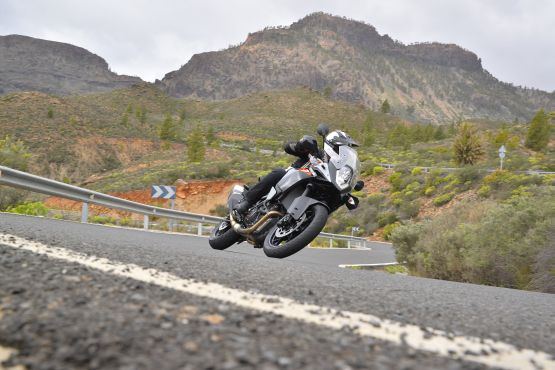 Almost all the Power Parts designed for the 1190 models also fit the 1050, so it comes with a ready-made list of extras ranging from luggage and crash-bars to an Akrapovic can, plus even the wire-spoked wheels and bash-plate, which, along with the 'Off-road' mode (which can be retro-fitted), should turn it into a very handy off-roader.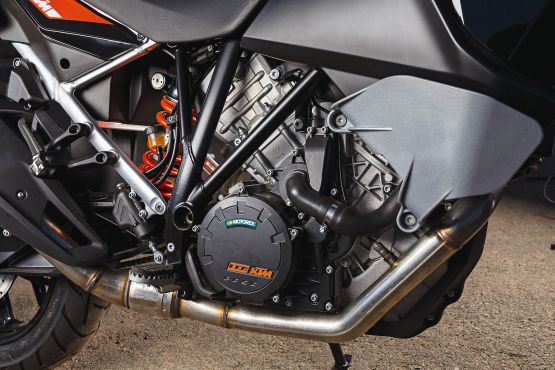 The 1050 certainly goes much of the way to offering the performance and versatility of the mighty 1190, in a more accessible and potentially A2-legal form. It's not cheap for an entry-level model, and has to compete with some capable and considerably less expensive rivals, including Triumph's revamped Tiger 800s. But if ever there's a novice-friendly bike that is capable of shining in just about any situation, it's surely the 1050 Adventure.